Fitness Quest Edge 500 Manual Treadmill
Put on your exercise clothing for inside workouts.
The Fitness Quest Edge 500 Manual Treadmill could be ideal for you.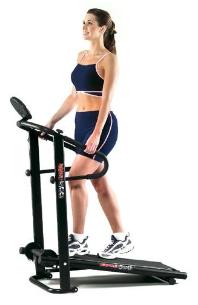 Walking is a popular exercise and you may need just the equipment to do it with no regard to the weather. If it's too hot outside you may find this as an excuse not to walk this morning. If it is raining outside it is a good reason to skip a day of good exercise.
The Fitness Quest Edge 500 Manual Treadmill will save you time and offer you convenience all at once.
The Fitness Quest Edge-500 Treadmill is ideal for all fitness levels. It provides the user an open end walking surface and it gives you plenty of room to walk or run.
This Edge 500 treadmill model is foldable, portable and storable so you can put it away and make room when not using it.
The price ranges from $119.87 and $159.99. The Fitness Quest Edge 500 Manual Treadmill has received an average rating of two and a half stars.
The main detail about this particular model is that it is exactly what the name says, it is a manual machine.
The Manual Alternative.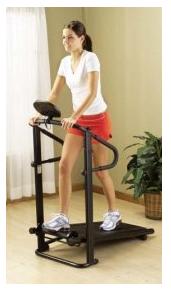 So basically you only go as fast as you push yourself to go and as slow as you allow. The speed is based on your motivation.
You accomplish what you allow yourself to achieve. The machine follows what your body is doing.
For instance if you slow down or stop, the machine will as well do the same thing. As to all exercise machines, the Fitness Edge 500 Manual Treadmill has positive and negative features to it.
If you prefer a manual machine then this is the one to purchase. If you would prefer a machine with many options and special features then you may need to find something else for yourself.
Also remember there are many exercise accessories that go with a manufacturer's machine, so do ask what ad-on's could be useful. Have an exercise and health day on your treadmill.