Effective Treadmill Workouts
A funny treadmill thing: Many Methods.
Effective Treadmill Workouts - Simple, Convenient, the ultimate way.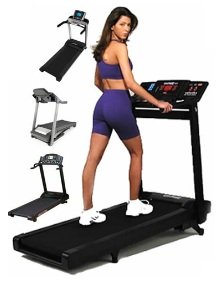 Simple, convenient and Effective Treadmill Workouts are the perfect solution for health fitness. Treadmill equipment, which is highly designed nowadays, is the best friend to every fitness lover.
So what is an effective workout?
Well firstly of you're a beginner build up to this, don't do yourself an injury.
1. Warm up for about 15 minutes.
2. Walk first, and then develop a gradual run – even jog gradually (approx 10-15 mins).
3. Stop and rest for approx. 10 minutes
4. Repeat steps 1 and 2 – or speed run for a further 10 minutes
5. Stop and rest for 10 minutes – take on fluids should you need to.
6. Repeat until your time expires
Of course you can add weights, like dumb bells, increase the incline and speed depending upon what level of fitness you have attained. This is just a rough guide. If you're a beginner, a 10 min walk, a stop break and another 10 min walk, might be fine.
The exercises and different equipment's have made it possible to live a healthy and fit life. All exercises are beneficial no doubt but effective workouts may lead one to be in the proper shape.
Effective workouts have become very popular in order to lose weight and burn excess fat. One of the greatest things about a treadmill workout is that one can create different workouts to suit all energy levels.
Treadmills are very effective for burning body fats and are highly recommended by professional and personal trainers. One can easily adapt for the effective treadmill workout for burning fat and fitness gain at the same time from one simple machine.
The treadmill exercise program: The Fitness fanatics friend.
One simply has to adjust to the speed level provided in the machine so as to make the heart work harder for fitness and slower for burning of fat.
Effective workouts should vary in speed, resistance and incline which push up the level of one's fitness.
A treadmill workout goes very well for people who don't have the time to go to gyms. These machines solve their problem at once as workouts can now be done at any time, either in the day or at night.
For all the above reasons, effective workouts are the excellent way of exercising at different levels. It greatly benefits fitness lovers in the long run.
Once you know your workout, you need to bone up about treadmills reviews; and which are the best to buy for your daily needs? Here are some good quality highly recommended brands on the market today, you should be investigating:-
We hope this simple list, generates a few starting points, in your search for the perfect mill.